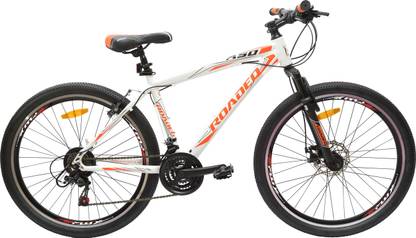 Key Elements
Available in the white and orange color variant.
Ideal for Boys/Men.
Have 21 gears.
Front and rear Geared Shimano Derailleur.
Have a lightweight aluminum frame.
21 Speed Shifters.
Have Front Suspension.
Comes in semi-assembled condition.
Hercules Roadeo A50 stands on the first number in the list of Best Cycle Under 15000 In India 2022. Hercules is a well-known brand that produces high-quality, advanced features cycles every year.
It is a mountain cycle that is perfect for riders above 15 years of age. It has easy fire shifters and thumb shifters that ensures safety while riding on uneven surfaces. Moreover, its frame is made up of alloy/aluminum.
To handle the rough terrain easily, wide tires of 26 inches are offered while its frame size is of 17 inches. A one-year warranty is also provided on the frame. It has XMR Handlebar, Shimano Crankset, and TI Tire. Riders whose height is between 4'9" to 5'3" can experience a comfortable ride on it.
Accessories like mudguard, stand, and the bell is not provided, but it is the Best Hercules Cycle Under 15000 as it offers advanced features, have attractive designs, and remarkable performance.