We all know that cycling has ample benefits. It helps to shape a healthy lifestyle and plays a vital role in improving health conditions, reducing stress, fat, and obesity. Besides this, it can be used as a mode of transport, recreation, and sport. People of every age group can enjoy cycling and can use it as a regular workout tool.
Thus if you are planning to buy Best Cycle Under 15000, then must go through this article! We have carefully researched, reviewed various cycles, and prepared a list of top cycles having a good set of performance, design, and features. So, don't waste any further time and let's take a look!!
Hercules Roadeo A50 Medium 26 T Mountain/Hardtail Cycle (21 Gear, White)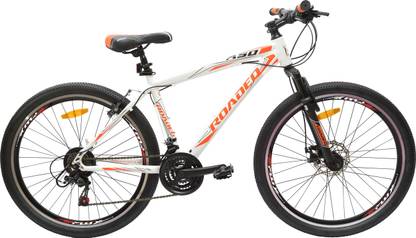 Key Elements:
Available in the white and orange color variant.
Ideal for Boys/Men.
Have 21 gears.
Front and rear Geared Shimano Derailleur.
Have a lightweight aluminum frame.
21 Speed Shifters.
Have Front Suspension.
Comes in semi-assembled condition.
Hercules Roadeo A50 stands on the first number in the list of Best Cycle Under 15000 In India 2022. Hercules is a well-known brand that produces high-quality, advanced features cycles every year.
It is a mountain cycle that is perfect for riders above 15 years of age. It has easy fire shifters and thumb shifters that ensures safety while riding on uneven surfaces. Moreover, its frame is made up of alloy/aluminum.
To handle the rough terrain easily, wide tires of 26 inches are offered while its frame size is of 17 inches. A one-year warranty is also provided on the frame. It has XMR Handlebar, Shimano Crankset, and TI Tire. Riders whose height is between 4'9" to 5'3" can experience a comfortable ride on it.
Accessories like mudguard, stand, and the bell is not provided, but it is the Best Hercules Cycle Under 15000 as it offers advanced features, have attractive designs, and remarkable performance.
Urban Terrain UT1000 MTB 27.5 T Mountain Cycle (21 Gear, Black)
Key Elements:
Have a durable steel frame.
Front Suspension.
Equipped with double-wall alloy rim for smooth riding.
Six months warranty is provided.
Have Shimano derailleurs and shifters.
Best for riders between 5 feet 5 inches to 6 feet.
Urban Terrain UT1000 Mountain Bike stands on second place in the list of Best Cycle under 15000 for Adults. This mountain bike secures seconds place because of its high performance, durability, and advanced features.
This mountain bike is made with superior and tempered steel that ensures smooth riding. It comes with 27.5 inches wide tires along with a frame of 18 inches. Urban Terrain UT1000 Mountain Bike is equipped with Wanda tires that provide a comfortable riding experience.
It comes in a cool and funky look in black color. Its premium design and themed graphics make it unique from other cycles. Hydraulic Double Disc brakes and Shimano Shifters help navigate safety on the worse and crowded road.
This MTB comes with a smooth 640 mm handlebar that provides superior grip, comfort, and a well-cushioned ride. You can adjust the seat as per your height.
Hero Sprint Flash 29T 21 Speed 29 T Road Cycle (21 Gear, Multicolor)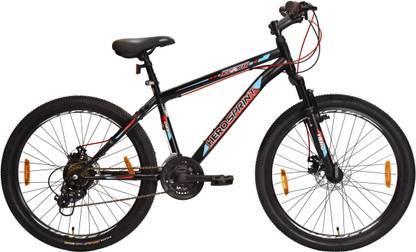 Key Elements:
Strong Nylon Tyres.
Available in vibrant Black and Red color.
Durable front and rear disc brake.
Made with high-quality steel.
Perfect for riders above 15 years of age.
Have 29 inches wide tires and a frame of 17 inches.
Hero Sprint Flash 29T 21 Speed 29 T Road Cycle is considered the Best Hero Cycle Under 15000. All those people who can afford the cycle in this budget can consider this as the best option.
It has an exceptionally superior and trendy design that helps you stand out from the crowd. Hero Sprint Flash is a 21-speed bike having Revo shifters. It has no mudguard! The wide wheel offers a high degree of strength.
Front suspension is another great advantage that forces people to prefer this cycle over others. People above 15 years of age can buy this and enjoy safe riding. Moreover, three months warranty is offered on this cycle!
Thus, if you seek the Best Mountain Cycle Under 15000, then you must pick Hero Sprint Flash 29T 21 Speed 29 T Road Cycle.
Urban Terrain UT2000 MTB 27.5 T Mountain Cycle (21 Gear, Red)
Key Elements:
Have Shimano Shifters for safety and comfort.
Apt for riders with 5 feet 5 inches to 6 feet height.
It offers a comfortable and well-cushioned ride.
Have Hydraulic Double Disc brakes.
18-inch sturdy steel frame.
If you are looking for a mountain bike to experience ultimate riding, then Urban Terrain UT2000 MTB 27.5 T Mountain Cycle is the best option. This mountain bike comes with some exciting and advanced features.
To offer the best performance and durability, Shimano parts are used. It has a superior and mild steel frame with steel tubing that provides extra support while riding. This bike comes with double-walled alloy rims.
On top of this, Urban Terrain provides free installation service and a three-month diet and fitness plan. Tool kit and Air Pump is also provided in the packaging that helps you in assembling the cycle quickly.
Urban Terrain UT2000 MTB 27.5 T Mountain Cycle is equipped with Shimano derailleurs and shifters that enable riders to shift gears as per their requirements and road conditions. So, if you want to get a premium-quality bicycle from a trusted brand, this is the best choice.
Hercules Roadeo A50 Large 26 T Mountain/Hardtail Cycle (21 Gear, Yellow)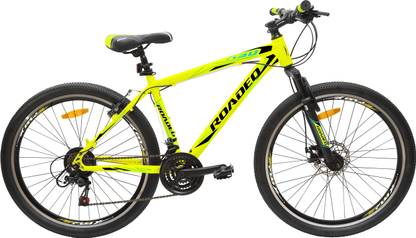 Key Elements:
Available in Radiant Yellow Color.
Best quality hardtail cycle.
Remarkable & Trustworthy Performance.
Front & Rear Derailleur: Geared Shimano
21 Speed Shifters.
XMR Handlebar, TI Tire.
Hercules Roadeo A50 Large 26 T Mountain/Hardtail Cycle stands on fifth place in the list of Best Cycle Under 15000 Rupees. Hercules is India's leading brand and choice of thousands of customers. This brand doesn't need any introduction! It is famous for offering tech-savvy, dynamically designed bicycles that suit every budget.
Thus if you are searching for Best Roadeo Cycle Under 15000, then you can pick this cycle! It is ideal for boys and men. All those riders whose height is between 4'9" feet to 5'3" feet can experience a comfortable and speedy riding.
If we talk about its features, it has 21 gears with easy fire shifters and thumb shifters. On top of this, it has a front disc brake and rear wire brake. Its frame is made up of aluminum/alloy.
However, its tire is 26 inches wide and have frame of about 18.5 inches. It comes in 80-90% assembled condition; all you need is to attach tires, seat, and pedal with the help of toolkit.
Omobikes Model 1.7 Cross Country Bike
Key Elements:
Elegant, Fashionable & Bold Design.
Made with High Tensile Steel.
Have Double Anti-Rust Coating and 17 inches frame.
Equipped with powerful V-Brakes.
Strong Treaded Tires.
Lightest bicycle.
Sealed BB Cartridge Kenli.
Rigid Suspension.
Omobikes Model 1.7 Cross Country Bike is the best-selling hybrid cycle preferred by the people of every age group. This cycle can easily cover 15 km and offers you a safe, secure, and comfortable riding experience.
It comes in two different color options: black, green, and black, orange. It has a quill type handlebar with PU grips that is easy to hold. People with 5 feet 2 inches to 6 feet heights can enjoy a relaxed ride on it.
A two-year warranty is offered on the frame and fork. Quick Adjustable Seat is also provided so that you can adjust it according to your height. It is the best choice for day to day commute within the city. Thus, if you want to buy Best Gear Cycle under 15000 in India, then don't think twice just go for this!
Essential Tips & Tricks to be Keep in Mind While Using a Geared Cycle
Cycling is one of the most enjoyable exercises in which everyone can participate. It makes a person fit and healthy. Different types of the cycle have different gears; it depends upon the type of cycle you are riding.
Whether you are riding a road bike, mountain bike or a commuter bike, all these bikes have different gears! Thus, you need to follow below-given tips and tricks while riding a geared bike. Have a look!!
Practice More & More:
To get familiar with the geared cycles, you need to practice more and more. To get perfect in riding geared cycles, you need to ride a lot and require spending some time in getting used to the gears.
Always Remember Right – Rear, Left – Front:
Generally, there are two sets of gear cogs in every cycle. The first set is known as chainrings. It is used to make significant changes in gear. While the rear set is used to shift the chain up and down. Moreover, it is controlled by the right shifter.
Don't Shift Too Quickly:
While you are riding on a hilly or flatten the area, don't shift too quickly. It may cause the chain to jump off the gears entirely.
Left – significant changes, Right – fine-tuning:
If you see a climbing hill coming up, then quickly shift to the left shifter. Once you reach on the more comfortable gear, you can switch to the right shifter for fine-tuning.
Things to Look For Before Buying a Cycle
Selecting the best cycle according to your requirements and budget proves to be a daunting task. One must require extensive knowledge of cycling components! No matter why you are buying a bicycle, you always prefer to buy a perfect one.
There are various factors that one must look at while picking a cycle that includes the type of frame, wheel size, suspension, cycle type, etc. To help you out in choosing the Best Cycle To Buy Under 15000, we have specified some essential tips, tricks, and. Have a look!
Set Your Budget:
The first thing you need to do is to set your budget! You need to pre-decide how much amount you want to spend on buying a bicycle. As bicycles are available at a different price ranging from thousands to lakhs!
If you wish to invest a good amount of money, you will be able to grab the cycle with various advanced features, unique design, and remarkable performance. What does a reasonable budget get you? Well, a reasonable budget brings various benefits such as:
Low Maintenance – Good cycles need low maintenance. You don't need to visit the repairing shop regularly.
High-Quality Frame – Good budget bicycle generally has high-quality frames that are designed for performance. They are also long-lasting and durable. They help in enjoying a comfortable ride.
Tires – Premium quality tires with better grips will be provided.
Select the Type of Cycle:
After determining the amount, you are required to select the type of cycle. There are various options to choose from. Generally, there are three types of cycles: mountain bikes, hybrid bikes, and road bikes. You can choose the bike type according to your needs and budget!
Road Bikes – Road bikes are specially designed for commuting on paved roads. These bikes have very slim and sleek tires. These kinds of bikes are preferred for sports events or racing competitions. Road bikes offer speed and efficiency to the riders.
Hybrid Bikes – This bike is a combination of mountain and road bikes. It offers a comfortable, smooth, and safe riding experience to the rider. If we talk about its tires, then the tires of hybrid bikes are slightly thinner than the mountain bikes.
Mountain Bikes – Mountain or MTB Bikes are the most preferred and popular bikes. These are used for rough surfaces, mountain trails, and offroad paths. They are equipped with strong and powerful brakes, sturdy tires, and excellent grips.
Geared or Gearless Cycle:
After deciding the type of cycle, you need to consider whether you want to purchase a geared cycle or gearless cycle. There is a common myth that geared cycle is faster than a gearless cycle, but this is not true! The speed depends upon the power to paddle.
Gearless Cycle – Gearless cycles are like the traditional cycle that contains only one ring system. This type of cycle is used to commute on the smooth road and paved surfaces.
Geared Cycle – Geared cycle has multiple rings! This type of cycle is used to ride uphill or for sporting events. You need to exert more pressure and focus while riding geared cycles.
Frame Size and Wheel Size:
Another critical factor that you need to keep in mind while buying a bicycle is the frame size and wheel size. Both components play an essential role in providing a comfortable and smooth riding experience.
Type of Suspension:
There are three types of suspension, such as rigid suspension, hardtail suspension, and dual suspension. So, carefully examine this factor before buying any bicycle! Look for the type of suspension a cycle have and then make a choice.
Other Components to Look Upon:
Brakes: Different cycles have different types of brakes, such as V-brakes, mechanical disc brakes, and hydraulic disc brakes. V-brakes are found on low-budget cycles while Disc brakes are found on cycle having a high budget.
The Material of Frame: Frame material is a vital factor you must keep in mind while buying a cycle. Generally, there are three types of frames: steel frame, Aluminium alloy frame, and carbon frame.
Must Check the Reviews:
If you are going to buy a cycle online, then you must check the reviews. It will help you in knowing the information you need to know before deciding to buy. Checking reviews will offer you real-time info.
Do Some Research:
After fixing your budget and type of cycle, you wish to buy, do some research. Visit the official site of different brands; compare the features, price, and other essential components.
Go for a Ride:
Must go for a ride before buying a cycle! It will help you in knowing the features and components with a closer look. You can quickly analyze the loopholes and functional points of that particular cycle.
So, must consider the above-stated factors before heading to the shop. It will assist you in picking the best cycle. However, there are many things to keep in mind, but we cannot rely on all things at once!
You can also consider the above-given list of Best Cycle Brands Under 15000 and can choose accordingly. We have specified all the details, features, essential elements, and vital components that will help you make a right decision.
FAQs (Frequently Asked Questions)
How do cycle gears work?
Well, a cycle gear system works on sliding the shifter upon the handlebars. Basically, a cycle gear system comprises of upshifting and downshifting. Upshifting means putting your vehicle into high gear while downshifting means putting your vehicle into a lower gear! These terms are also known as a shift down and shift up.
How many gears do cycles have?
There's not a specific number of gear in a cycle. It depends upon the type of bike. However, the cycle has 1, 3, 18, 21, 24, or 27 speeds. Below given are the numbers of gear in different cycles:
• There is a single gear in a BMX and fixed gear bikes.
• Mountain bikes have ten to thirty gear shifters in total.
• Kid's bike has six to twelve gears.
• Road bikes comprise of two cogs at the front and nine at the back, so there are a total of eighteen gears.
When to shift gears on your bicycle?
Always shift the gear on your bicycle before you start climbing. Avoid shifting the gears when you are halfway up or slowing rapidly and applying maximum pressure on the pedals.
What are the best gears to cycle in?
When you are riding in the direction of the wind or climbing uphill, it is best to shift to smooth gears. However, if the wind is forcing from your behind or if you are driving on the flat terrains, it is ideal to use the harder gear.
How to shift Shimano Gears?
Shimano Gears are the most popular gears among the bike manufacturers as it offers excellent efficiency and has other great features. Shimano uses STI's levers that are known as 'Shimano Total Integration.' There are two levers, a big one, and a small one behind it. The right shifter controls the rear derailleur, whereas the left shifter is used to control the front derailleur and chainrings.
What is cross-chaining, and why to avoid it?
Cross-chaining is a condition that occurs when the front and the rear gear ratios are improperly combined. It may also happen when the chain runs across the drivetrain centerline. It is vital to avoid it, as it may cause damage to your drivetrain.